How to join the Choir
Interested in Singing? Want to join a choir in Bedford? You've come to the right place...
The Kempston Musical Society welcomes new members - if you're interested in singing and want to join a Bedford choir then get in touch or simply come along to a rehearsal and join in! The choir is a mixed four-part SATB choir (Soprano, Alto, Tenor and Bass).
There are no auditions to get into the choir - being able to read music is an advantage, but not compulsory. We sing in a wide variety of musical styles and from different periods - from Classical and Baroque, to more modern light music and Carols at Christmas.
---
Where and When...
Rehearsals are held in the church hall next to the Church of the Transfiguration, Bedford Road, Kempston
The hall has its own car park and off-street parking is available. Building access is very easy - there are no difficult steps, the doors are wide and it's suitable for wheelchair access. There are toilet facilities at the hall - including disabled facilities. There's a good heating system in the building so that the rehearsal room is not cold in winter.
Rehearsals take place most Thursday evenings from September to April - 7:30 to 9:30
We don't meet during the summer months. A detailed schedule for each season can be seen on our rehearsals page.
---
Membership Costs...
Annual fee for the whole season is £40 per year
Or, you can pay £20 half yearly if preferred
Although the Kempston Musical Society Bedford is a non-profit making organisation and registered charity, we do ask a modest annual subscription fee from all choir members to cover running costs for things like the rehearsal room hire, music hire, etc. Payment by cheque only please.
---
Music Scores...
Music is provided
Music scores / sheets are provided by the choir for that season's music - there are no additional costs for your music. Occasionally, if we are doing a brand new piece or the music is only available in limited numbers on library-loan, we may invite choir members to purchase their own scores.
When you join the choir, you'll be given a membership number - any loan music will have your number at the top - please return your music safely and in good condition after each concert.
---
Concert Dress...
Women
3/4 sleeved white blouse with collar, black ankle length skirt or black trousers, and black shoes. There is a choir-scarf that is used at formal concerts. A white cardigan or shawl can be worn in winter or if the concert venue is chilly.
Men
Dinner jacket or black suit, white shirt and choir issue bow tie, black shoes and socks.
Music Folders
A black folder should be used to hold your music. KMS Logo folders can be purchased at rehearsals.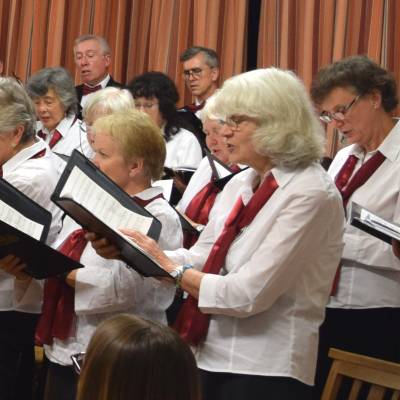 Interested in singing? Would you like to join a Bedford Choir? New choir members are always welcome.

Registered Charity No. 1117582